Google belooft 'geweldige Google Maps-ervaring' op iOS
Posted: June 23, 2012
Filed under:
Uncategorized
Leave a comment
See on Scoop.it – ten Hagen on Apple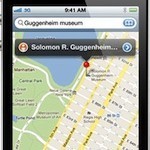 Google belooft 'amazing' ervaringen voor Google Maps op de iPhone. Nu Apple een eigen kaartendienst heeft ontwikkelt, zoekt Google naar mogelijkheden om relevant te blijven.
Google geeft niet zomaar op, nu Apple heeft besloten om een eigen kaartendienst uit te brengen. Een Google-topman belooft dat er 'amazing experiences' aankomen op het iPhone-platform. Het blijft onduidelijk of het hierbij gaat om een losstaande Google Maps-app die je via de App Store kunt installeren, of een ervaring van Google Maps zoals al op Android beschikbaar is, werd niet duidelijk. Er is bij iOS ook nog wel ruimte voor verbetering: op Android-toestellen is het bijvoorbeeld al mogelijk om via Google Maps te navigeren, op de iPhone nog niet. Als Apple straks de eigen kaartendienst Maps in iOS 6 invoert, zal daar ook navigatie mogelijk zijn, plus nog een hoop andere functies zoals FlyOver.
Tegelijk zitten er in de Google Maps-app ook functies die Apple nog niet voor elkaar heeft. Zo kun je via Google OV-routes plannen en via Street View kijken hoe een straat er in werkelijkheid uit ziet. Bij Apple kan dat nog niet. Een losstaande Google Maps-app voor de iPhone en iPad kan daarom voor gebruikers nog steeds interessant zijn. Voor Google is een aparte iOS-app ook interessant. Zoals we eerder schreven raakt Google – althans in de VS – bijna de helft van de mobiele gebruikers kwijt, als ze allemaal overstappen naar Apple Maps. Zo'n vaart zal het niet meteen lopen, want een hoop mensen met oudere iPhones en iPads zullen de overstap naar iOS 6 niet maken. Maar voor Google valt daarmee wel een inkomstenbron weg, waarbij ze de locatie van gebruikers kunnen inzetten om gerichte reclame aan te bieden.
#FlowConnection
See on www.iphoneclub.nl
---