See on Scoop.it – ten Hagen on Cloud Computing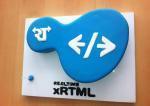 Realtime, a technology developed by a company which has been around since the Internet's earliest days with the practically un-Googleable name "Internet Business Technologies," has just received a massive $100 million investment to help fund its lofty plan to build the real-time web. The company offers a developer framework that now powers 2,000 real-time client applications, but, until now, it has only been available outside the U.S.
However, with the new investment from the three-month old, Såo Paulo-based BRZtech, a firm backed by private investors in Europe and South America, as well as Portuguese investment vehicle The Ongoing Group, Realtime is today launching its developer platform stateside.
"What can I do to be disruptive?," CEO Andre Parreira asked himself years ago, when thinking about how he could scale his company internationally. "I looked to the Internet, and I saw that the Internet is based on a 30-year old protocol – it's still request/response – so it's static. It's not delivering on the promise that the Internet will give us a true interactive experience," he said. "So, let's create the live web," he thought.
That's the goal with Realtime, which offers a freemium-based developer framework for building live web applications. However, to be clear, the funding isn't just for the company itself – it's also to fund the industry, including everything that would need to spring up around this "live web" ambition in order to make it a success. The company claims to have already signed up over 1,000 developers for its beta and plans further outreach through conferences, hackathons and other competitions.
Nope, no small dreams here. Just "a whole new era of the Internet," as Parreira calls it.
Read more: http://bitly.com/FlowRealtime
#FlowConnection
See on techcrunch.com