See on Scoop.it – ten Hagen on Social Media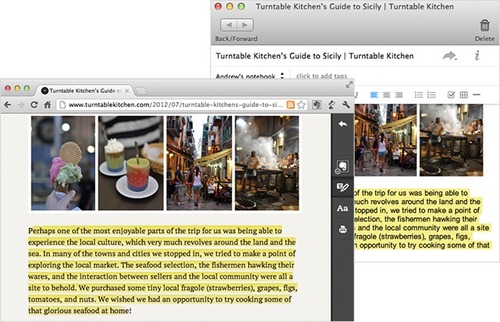 Reading online can sometime feel like a contact sport. While you're trying to get something out of that article you found, the site is actively enticing you with stories, tickers, videos, and ads. That's why we created Evernote Clearly, our browser extension that gives you that momentary peace and quiet to focus and enjoy your reading. Today, Evernote Clearly gets new features that make it even handier. Let's take a look.
Your Evernote account is a treasure trove of memories, ideas and inspirations. Related Notes are our way of helping you rediscover all that goodness. Whenever you visit a page and click on Clearly, in addition to a beautifully simplified page, you'll now also see links to Related Notes appear in the right side of the screen. These notes relate to the page you're reading based on a variety of different factors.
We designed the Related Notes to appear in a very light, subtle way, so as not to distract you from your reading. When you're done with the article, mouse over the Related Notes and they'll darken. You can also choose to have the Related Notes appear at the bottom of the article. You must be logged into your Evernote account in order to see Related Notes.
Highlighting
You'll find a new highlighter icon in the Clearly toolbar. When you read an article and come across something that you want to call out, select that portion of text, then click the highlighter. This does two things, first it highlights the text in yellow. Second, it clips the whole article into Evernote. The cool part: in Evernote that same text will be highlighted. Pretty sweet.
Sony Reader
Last week, Sony released their newest eReader with Evernote built right in. The integration lets you take notes from your Evernote account and download them to the device for reading anywhere, any time. It works beautifully with pages clipped using Evernote Clearly.
And more…
Evernote Clearly keeps getting better. Be sure to check out Clearly Settings to find more options and customizations. Let us know what you think.
#FlowConnection
See on blog.evernote.com