See on Scoop.it – ten Hagen on Social Media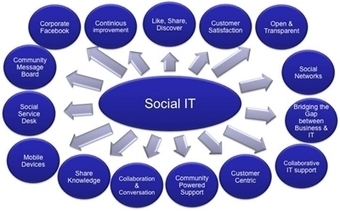 De explosieve groei van social media platformen als Facebook, Linkedin en Twitter zetten onverminderd hard voort in de consumenten wereld. Tegelijkertijd wordt social media technologie vandaag de dag meer en meer geïntegreerd binnen organisaties – los nog van het inzetten van social media als marketing instrument.
De medewerker van vandaag is gewend geraakt in zijn privé omgeving aan een andere manier van communiceren (tweets, Skype, video, Facebook etc) via verschillende dragers (mobiel, tablet, pc, digitale tv) en wenst nu ook dat deze middelen kunnen worden ingezet in zijn werkomgeving. Dit wordt Consumerisation of IT genoemd.
Social technology tools
Collaboration tools en oplossingen op het gebied van Unified Communication bieden oplossingen om dit te faciliteren, maar wat betekent dit voor de IT organisaties op het gebied van performance en bereikbaarheid; welke tools moet men hier voor aanbieden en hoe moet men omgaan met het beveiligen van informatie? Naast het aanbieden van toepassingen zal de rol van de IT binnen organisaties ook moeten veranderen indien men een toegevoegde waarde blijven bieden richting de business.
Dus om de business bij te kunnen benen dient de IT-organisatie zelf ook 'sociaal' te worden…
De centrale vraag zal dan ook zijn op welke wijze IT-organisaties leren en gebruik kunnen maken van social media technology en dit zullen integreren in hun bestaande IT-organisatie.
Thema's en onderwerpen:
Wat kan men leren van social media en de manier van communiceren binnen de organisatie?
Collaboration Tools.
Het beveiligen en beheren van mobiele devices en de impact van BYO.
Asset management in virtuele omgevingen.
Security risico's van Sociale Netwerken.
Consumerisation of IT.
Desktop virtualisatie.
Netwerk perfomance bij groeiend data verbruik.
#SE12
#FlowConnection
See on www.storage-expo.nl