See on Scoop.it – ten Hagen on Social Media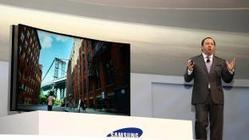 Vergroot een buigbaar scherm echt de kijkervaring?
Laurens ten Hagen's insight:
Deskundigen zijn verdeeld over de vraag of er een markt is voor buigbare tv's. Frank Eeveraardt van Hardware.Info, die de presentatie bijwoonde, toonde zich onder de indruk.
"Je kunt een optimale kijkervaring hebben als je alleen bent of met een paar mensen op een bank. Dan heb je echt een soort panoramisch gevoel en als je hem plat zet, kun je met meerdere mensen in de kamer kijken."
Anderen vragen zich af of buigbaarheid werkelijk veel bijdraagt aan het kijkplezier. Enkele jaren terug werd voorspeld dat 3D-tv de nieuwe standaard zou worden, daar is niets van terechtgekomen.
See on nos.nl